In holiday marketing opportunities (part two) we will be discussing how to improve web conversion rates. This can be achieved through great marketing campaigns.  Staying true to your target audience is always the best advice. Do this by sticking to branding effects that have worked for you in past. Imagery and color should be reflected in your marketing campaigns. The age and unique needs of your target audience is also a top priority.. Consumers are very smart and are looking for quick and easy savings. Did you know that 30% of prospective buyers begin shopping for the holidays before Halloween according to Google Consumer Surveys?  Now more than ever before, buyers are taking advantage of these early savings, so there is no need for consumers to wait until after Thanksgiving to look for great buys. Many of our clients are already preparing social media ads, holiday banners and website campaigns in early September to target early shoppers.
Standing in line is overrated:
Online shopping is much easier than standing in line at the store. This allows young and old to shop safely from home or office. The marketplace is now opened to many who were unable to shop outside due to illness, disability or having no transportation. Some of us, however, just prefer to avoid the holiday stress which comes from fighting crowds and traffic. We prefer the quiet and safe environment of shopping online. Older websites, not responsive, will miss out on new holiday traffic.
Go mobile or miss out on holiday business:
A mobile marketing strategy is crucial today to capture online consumer business. If your website is not mobile-friendly, it needs to be.  Contact your website developers right away and work out an arrangement to have the site re-designed using a responsive mobile platform ASAP.  There is no time like the present to do this.  Since April of 2015, Google is no longer listing websites in mobile searches. Many of our clients are just now getting around to making the change. Website content and other marketing promotions, social media, etc. must be accessible to mobile devices.
Online shoppers are now using their mobile devices to shop. A proper website will have three page views for each page of the site (computer view, tablet and phone). Test your website on each of these three devices to determine if you are ready for mobile traffic. Future website conversions depend heavily on this new responsive method.  Going mobile is not just an option…. it is a must if you are hoping to improve your conversion rate going forward. Don't miss out on holiday business and new consumer traffic by failing to update your current website.
Re-designing your current site: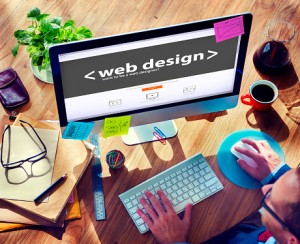 Stay away from old descriptions and visuals.  Ask the developer to use new smart technology and methods which will excite the visitor to stay on the site and become a buyer.  Freshen up the website look and feel to increase website conversion rate.  No one wants to do business if your site looks outdated and runs using old technology. Re-write all content from page to page. Old content which has been online for a long time will not bring new consumers your way. Add new updated content at least once a year and remember that each blog post counts as a new page. Stay current with blogging efforts. Check out your competitors and make the changes necessary to have your brand stand out in the crowd.
The three key shopping days are:
Thanksgiving
Black Friday
Cyber Monday
Email marketing campaigns for the holidays:
Spice up your email campaigns for the holidays by adding holiday banners and images. Your company newsletter (or email marketing campaign) is a top marketing tool to bring holiday business. We encourage you to send at least one campaign per quarter (preferably at the holidays).  Here are a few great rules for creating email campaigns:
Make a compelling offer (people need a reason to buy)
Don't send email campaigns too often (use holidays)
Make the subject line count (create a descriptive headline)
Provide expert information that benefits the reader
Thanks for stopping by and we hope you will visit us again.
Staff Writer, Jean Holland-Rose
Chief Creative Officer and SEO Professional