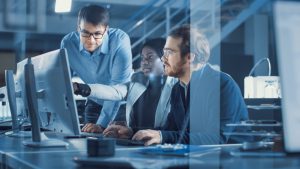 Choosing the right web developer for a business project is an important decision for your future success.  The company you choose must have great technical skills as well as programming knowledge. Additionally, the new web developer you choose should be able to use the most current smart technology available.  You would be surprised how many website companies out there tend to do the same thing over and over again and do not stay current with the modern trends.  Trends change, technology changes, and most importantly, the Google algorithm is constantly changing.  This requires those that design websites to continually learn new methods to stay ahead.
Using a design team for best results:
If at all possible we suggest the client should choose a design team from their own country and better yet, a "local website design company."  Our company uses local designers, local custom programmers, and SEO specialists in each design/build.  Our web design team members specialize in one area or another.  The more diverse and functional the design team, the better the overall result will be.  Choosing a local design team will stop future problems and can allow the client to feel confident that the project will be started and completed in a timely manner.  Choosing local is also the best choice as it allows a face-to-face meeting with the design team.  Email is great but we urge all of you to arrange a meeting with your web developer and design team either in person or in a virtual online meeting.  This stops any miscommunication and keeps problems at a minimum.
Consider SEO from the very start of the project: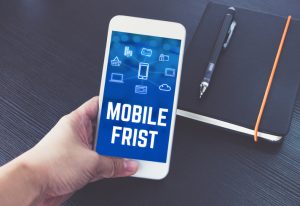 Find out if your web design team adds all of the SEO bells and whistles from the very beginning of the design project.  Our company optimizes each and every page of the website for SEO.  Our policy is to develop each project using a mobile-first design strategy.  This means we build the website for the smartphone first before completing the computer page views and the tablet views.  This makes perfect sense since most of us use our mobile devices for online searches.
Our design team pays close attention to meta language within the source code for each page view.  This will pay great benefits once the website is published.  Another SEO consideration is the page content for all site pages.  We use content writers to research and prepare the perfect page content to compliment the other SEO optimization methods as the site progresses.
Most web developers offer some degree of SEO Optimization.  Ask the web design company you choose to provide a detailed list of what optimization tools are included in the design quote.  Compare this as you research your best options.  No two design companies are alike so comparing design proposals is crucial in order to choose the right design solution for your brand.  If your project is large and will take custom programming to complete, it may be necessary to hire an outside programming company (additional to the design team) to get the result you are looking for.  Today, we are discovering that hiring an in-house SEO Professional is the more cost-effective option.
What is a front-end web developer?
This is a professional who codes the website pages.  They understand how to develop HTML code and how to place elements into the website correctly.  A front-end web developer decides what content (text) goes on the individual pages and how the content will be perceived by the search engine bots that scan the website.  This is important since this will affect the overall SEO rank of the website.
The importance of the back-end web developer:
This expert is normally referred to as a programmer.  This programmer/backend developer will work within the source code, behind the scenes.  This work is not seen by the viewer of the site but the programmer is the nuts and bolts of the entire project.  Their importance is to make sure the user of an application receives the results they expect.  The programmer is responsible for everything the viewer cannot see.
Other expertise needed for web design: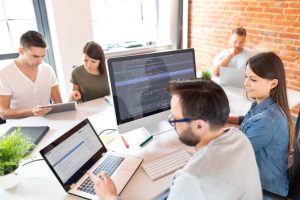 Depending upon the scale of a web design project, your web developer may team up with other experts in the field to provide you with the comprehensive coverage you'll need for the finished project.  Writers and content managers are helpful throughout the design process.  Ranking high in the SERPs (Search Engine Results Pages) is the golden grail when it comes to website success.
No matter how gorgeous your website may be, and no matter how many bells and whistles are added to the site,  the content is one of the most crucial parts of any design project.  This is the reason we cherish our bloggers and content writers so highly.  Otherwise, our beautiful site is no more than an empty vessel sailing on a sea of dreams.  Consider your site a "big dead zone."  Until you begin to add new content consistently your company and your brand will not receive the traffic you so deserve.
Don't forget the importance of a professional logo and images for your company and online persona. Your web developer will provide guidance to locate a  graphic artist who will highlight your business with a logo that represents your brand both online and in print materials like business cards, brochures, billboards, and more. A professional photographer working with your web developer will capture your products and locations in the best light possible as well as introducing your company leaders with personal head shots for biography pages.
Conclusion:  Choosing the right web developer
Our blog article today was all about choosing the right web developer for your business project.  This decision will have a direct impact on whether you will do well online or just become one of the many business sites destined to fail.  Before signing with any developer, first, ask them to view finished projects and review their entire portfolio.  If you run across a designer's site with no portfolio, run away as fast as you can.  This is a huge red flag that the company in question might not be the best choice.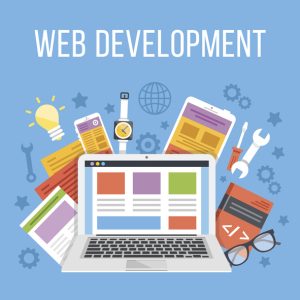 Next, try hard to find a web developer who is nearby (a local company).  Stay clear of start-ups and those companies with little or no experience in the industry.  Make sure they have a custom programmer on staff or on retainer should you need specific programming results.  This is also necessary for those wanting an e-commerce website.  Additionally, ask the developer if they have Google referrals online that you can review.
Most of all you want to make sure your choice does not cause concern that any fraud is present.  There are web design scammers who are preying on those looking for website design.  Be safe rather than sorry.  Reputable web developers will provide a proposal for the project and offer their terms and conditions agreement as well.
Stay cautious as you determine your best choice for your new website developer.  Choosing correctly will serve you well as you begin your journey to success.   We would love to offer our tips for your next big project.  Contact us over the holidays this year to enjoy the great holiday design packages.
News & Views from the Design Wizards:
Congratulations to John Allen, Jr, and the team at "Kingdom Citizens Radio" on the launch of their new website.  We wish you the best on your new online journey.  This is their very first website and they're looking forward to providing great Christian music and inspiration through their new online podcast.
Thanks for stopping by and hurry back for more next time:  Happy Thanksgiving ahead!

Jean Holland-Rose
Chief Creative Officer & SEO Professional