Our website designers, Paul Rose, Multi-Media Designer and Jean Holland-Rose, Chief Creative officer joined forces with our strategic partner Stephan Barrett and his team at Rise.net and several other talented individuals.
As the Google algorithm is constantly changing, and content is a crucial component for SEO, we brought on a few great content writers and bloggers.
Today, we are boasting over 17 years of digital media expertise. Our group has completed over 600 projects and counting … our story continues.
Please browse our site to learn more.
International Awards
Award: Best Web Designers in Orlando (2018-2021)
WebAward – Best in Class (2018)
WebAward – Standard of Excellence (2017)
IAC Award – Best Medical (2016)
IMA Outstanding Achievement (2014)
IMA – Best in Class Award (2012)
WebAward of Excellence (2010)
WebAward Gold Award of Excellence (2009)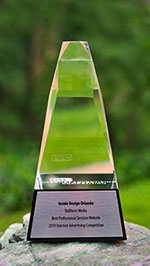 INTERNATIONAL ADVERTISING COMPETITION
Inside Design Orlando (Orlando Website Design, LLC)  are winners of the 2019 IAC Crystal Trophy
for 'Best Professional Services' website. Winning website: BullHorn Media.
Do you have a great idea?
Make it a reality with an award winning design from Inside Design Orlando!